Diagonal Stitch
Reviewed by Trish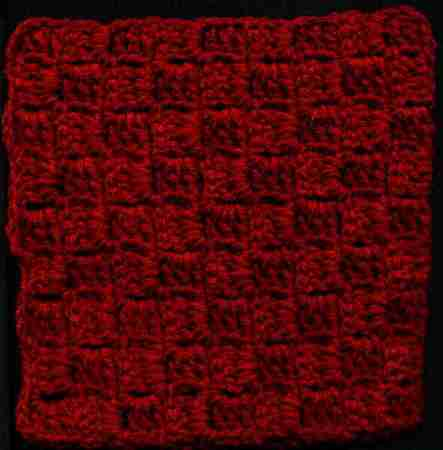 Supplies:
My sample was made with Red Heart worsted weight, 4 ply yarn and crocheted with a size G hook.
The pattern:
The website where I found the stitch at Northwest Peddler.
To make the square shown:
I made 9 rows before I started decreasing.
Review:
Diagonal Crochet is really easy to do, once you get the hang of it. The diagonal stitch is started in one corner and worked from the bottom to the left side and when decreasing, worked from the top to the right side and finished in the opposite corner from where started.
Uses:
This stitch produces a solid fabric which is good for making square afghans as large as possible with a given amount of yarn, just use half the yarn and then start decreasing.
It also makes a nice textured square for a pieced afghan.
It would make a nice pattern for a baby afghan because there aren't any little holes for babies to get their fingers caught in.

Back to Stitch of the Week
Back to Tutorial
Back to HH home