Crowded Shells Stitch
Reviewed by Caroline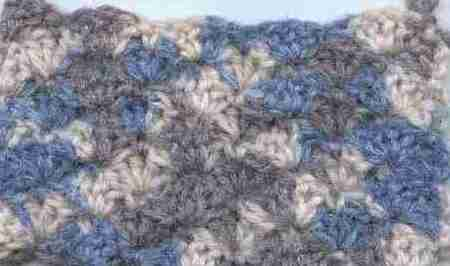 The sample is made with 4-ply worsted weight yarn and a size H hook.
Supplies:
You will need a sz H crochet hook and worsted weight yarn.
The pattern:
This week's pattern came from Knitted Threads
To Make the square shown
Start with a base chain of 31 and work until it is square.
Review:
This stitch is realatively easy. It shows up better though with a solid color of yarn rather than the varigated I choose for this sample. There's lots of texture and the color changes in the yarn hide that. It makes a nice solid fabric which wont catch easily on fingers. And as with other stitches at Knitted Threads, the instructions are really easy to follow. The only thing I don't really like about this stitch is that the top and bottom edges end up scalloped which makes it a little difficult to use for a sampler square.
Uses:
Afghans, sampler squares, dishcloths, scarves, eyeglass cases, etc.

Back to Stitch of the Week
Back to Tutorial
Back to HH home