Forget Me Not Stitch
Reviewed by Caroline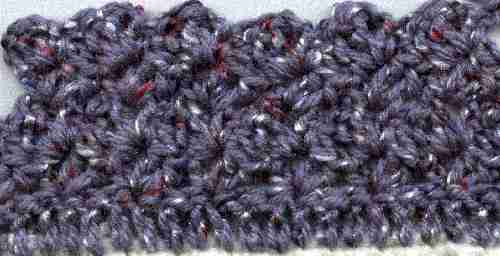 (click image for larger version)
The sample is made with 4-ply worsted weight yarn (Red Heart Fiesta) and a G hook.
Supplies:
You will need yarn and a hook for that size of yarn (or thread would work too).
The pattern:
This pattern can be found at Vintage Crochet Parlor
Review:
This stitch is extremly easy once you get started. It's just the second row of the pattern which repeats, so there isn't a whole lot to remember. You also work into the ch 2 loop all the time, so you don't need to worry about working into a stitch in the previous row. The fabric is pretty solid and much like the shell stitch. As you can tell though, the pattern doesn't really stand out all that well with a multicolor yarn.
Uses:
Afghans, sampler squares, dishcloths, scarves, etc.

Back to Stitch of the Week
Back to Tutorial
Back to HH home