(Lover's or Solomon's) Knot Stitch
Reviewed by Caroline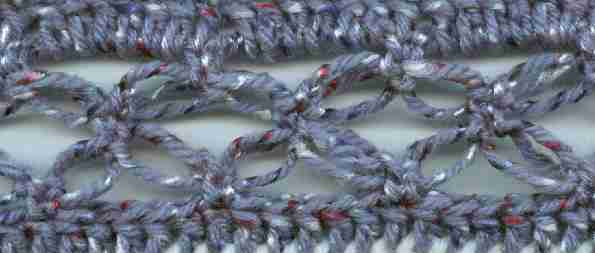 The sample is made with 4-ply worsted weight yarn (Red Heart Fiesta) and a size G hook.
Supplies:
You will need a sz G crochet hook and worsted weight yarn.
The pattern:
This week's pattern came from About.com
To Make the sample shown
Start with a base chain of a multiple of 7 + 3.
1) Starting in the 3rd chain from the hook, dc in each stitch across, ch1 and turn.
2) sc in first stitch, * work two Lover's knots, making the loops abour 3/4 of an inch skip 5 dc and sc in the 6th. Repeat from star across. Chain 3 and turn.
3)work one Lover's knot, sc in between the two knots which form the loop on the row before. *work two Lover's knots and sc in between the two lover's knots on the previous row. Repeat from star end with a single Lover's Knot and then a DC in the last sc of the previous row ch 1 and turn.
4)sc in top of dc. *ch 5 ch in between the two lover's knots in the previous row. Repeat from * end with a sc in top of turning chain. ch 3 and turn.
5)dc in each ch across.
Review:
This stitch is much easier to learn when you have pictures to see what loop(s) they're talking about. I wish I had had pictures when I first learned the stitch. Lover's Knot does take a little practice and a good eye to keep the loops even. It's also important to keep in mind that if a pattern tells you to make the loops a certain length, then you will probably need to adjust that length if your gauge isn't the same as their's because your loops might not correspond to the same stitches in the next row the same.
TIP:
Use a square piece of cardboard cut to the size the loops should be as a gauge to keep your loops even.

Uses:
Afghans, sampler squares (mixed with other stitches), shawls, scarves, edgings, etc.

Back to Stitch of the Week
Back to Tutorial
Back to HH home